Longarm Info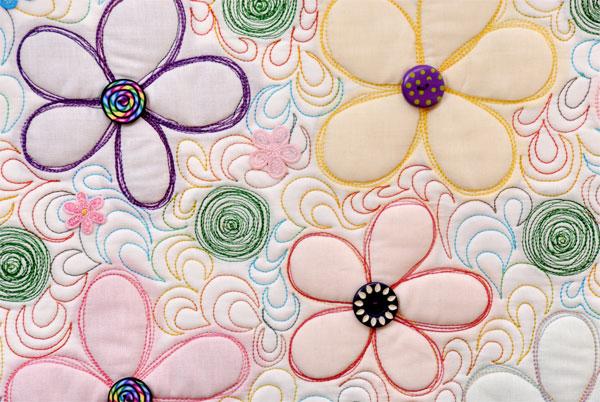 Rasmatazz Designs offers award-winning longarm quilting to add the finishing touch to your quilt. As they say, "Quilting makes the quilt," and machine quilting adds beauty and longevity to your project. It also gets your quilt closer to being finished! Call to make an appointment (523-9795). So you aren't local? I have several customers outside of my local area that send their quilts, and we discuss their projects on the telephone so don't hesitate to communicate long-distance!
When you bring a quilt top, it should be prepared to be quilted without any additional work to be done. That means it should be neatly pressed with all thread ends trimmed and stray threads off the back of the top. Your attention to thread ends and stray threads is especially important when working with a light colored top, as you don't want stray threads to show through the finished quilt. It's your responsibility to deliver the quilt top in the best possible condition for quilting.
Your quilt backing should be at least 6" larger than the quilt top in width and length, and your backing should be trimmed "square." I recommend that all selvages be trimmed from the backing to avoid puckering. Give the backing a good pressing before bringing your quilt to be quilted and pay special attention to all seams.
When you arrive, we'll discuss ideas and suggestions for the quilting, the thread choice, and the batting for your project. Pricing varies on the type and amount of quilting that you desire. You can supply the batting, but I have a supply of several types of batting which I recommend. I have several types and colors of threads for your selection. Here's a pricing list to give you an idea, but your final decisions on quilting, threads, and batting will determine the final cost for the completed quilting.
Pricing:
Minimum Loading Fee:
$30.00
Pressing and Trimming Extra as necessary:
TBD
Basic Continuous Line Quilting:
.0175 per square inch
(Basic is a simple, fairly large scale overall design.)
Heirloom Quilting (i.e. heavy quilting, templates, ditch, grid quilting, etc.):
.03 per square inch minimum Or To Be Determined
Minimum Thread Fees:
$3.00-Table runner
$5.00-Throw
$7.00-King
$4.00-Throw
$6.00-Double/Queen
$8.00-Super King
Batting:
Hobbs 80/20
Quilter's Dream Poly
96" width
120" width
$5.30 per yard $9.40 per yard
Piecing backing:
$5.00 per seam